By Suzanne Zuckerman
Monday June 04, 2012 07:00 AM EDT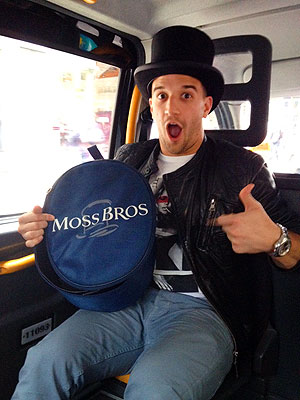 Mark Ballas
Courtesy of Mark Ballas
Mark Ballas has rocked a gold lamé tuxedo and a matador's jacket on Dancing with the Stars, but in Surrey, England, for the Epsom Derby – which kicked off celebrations for the Queen's Diamond Jubilee – a last-minute search for a top hat was enough to cause him serious stress.
"I ended up finding one 10 minutes before the shop closed," the ballroom pro, 26, told PEOPLE of his day-long hunt around London for the old-school accessory required for the horse race.
Ballas had been invited to Saturday's event – for which men are also required to wear tails or "morning jackets" – by former Dancing partner (and season runner-up) Katherine Jenkins, the Welsh opera star who sang the British national anthem for the Queen and the 130,000-strong crowd.

"Katherine said nothing will ever compare to the nerves of Dancing with the Stars," Ballas says. And having been raised in England himself (from age 3 to 21, he lived in Liverpool and then London), Ballas never broke a sweat around her majesty, either.
"I was just standing there, jaw-dropped," he says of sipping champagne a mere six feet away from the Queen (and other members of the Royal Family, including Princesses Beatrice and Eugenie) on the exclusive Paddock. Though royal protocol dictates "You never speak unless spoken to," Queen Elizabeth did introduce herself to Jenkins, "who did a little curtsy," Ballas says.
In person, the monarch is "tiny and very extravagant, lovely and gorgeous," he says. "She looked amazing."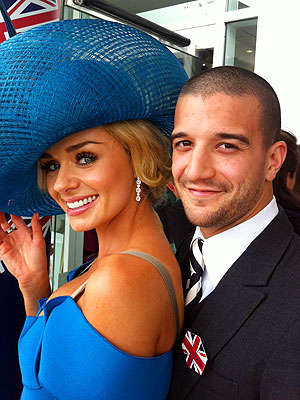 Katherine Jenkins and Mark Ballas
Courtesy of Mark Ballas
And as "honored" as he was to celebrate her 60-year reign in classic royal style, he couldn't help but observe, "She's just a super cute grandma!"
So how did he pass time on his flight across the Pond?
Ballas says he has proudly hopped on the book-club bandwagon, reading Fifty Shades of Grey, the mega-popular erotic trilogy by British author E.L. James.
His reaction to the steamy saga? It's "relatable," he says.
http://www.people.com/people/article/0,,20600707,00.html